AX360 Shield Grip Latex Gloves
Don't lose your grip working with water, liquid, and chemicals wearing the 212 Performance AX360 Shield Grip latex gloves.
Details
Dirty job? Call for a little backup. The AX360 SHIELD GRIP latex glove keeps you protected with a double layer latex dip that ensures liquids are kept away from your skin. The primary layer of textured latex ensures grip integrity and a secondary layer of smooth latex protects from liquids making this glove the perfect one-two punch for your arsenal.
WARNING! THIS PRODUCT CONTAINS NATURAL RUBBER LATEX WHICH MAY CAUSE ALLERGIC REACTIONS.
Features
NYLON REINFORCED - A reinforcing nylon base glove acts as a liner for increased durability and comfort
FULL COVERAGE - Dipped in natural latex from fingertip to cuff to give maximum protection against caustic and corrosive liquids
DOUBLE DIPPED GRIP - Palm and fingers are double dipped and textured to provide excellent grip in dry, wet, or oily conditions
NATURAL LATEX - Double layered natural latex prevents liquids from penetrating through to your skin
EN 388 TESTED - Rated 3142 on EN 388 Standards for abrasion, blade cut, tear, and puncture resistance
DRIVER STYLE CUFF - Driver style open cuff construction allows for easy donning and removal
BULK PACK - Gloves sold in bulk pack of 12 pairs
Specifications
country of origin
Sri Lanka
warranty
10 Day Limited Warranty

Natural Latex
Double layered natural latex prevents liquids from penetrating through to your skin
Double Dipped Grip
Palm and fingers are double dipped and textured to provide excellent grip in dry, wet, or oily conditions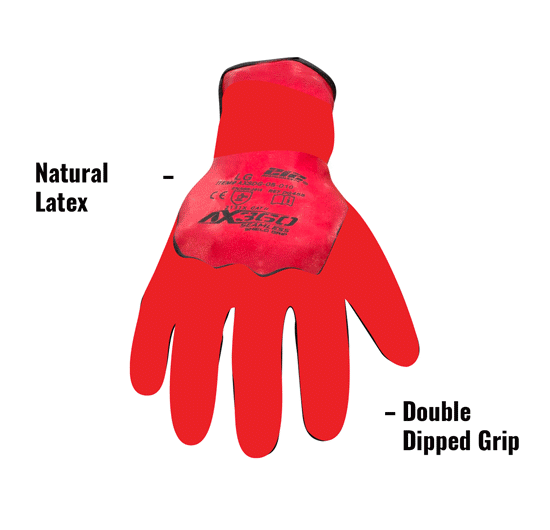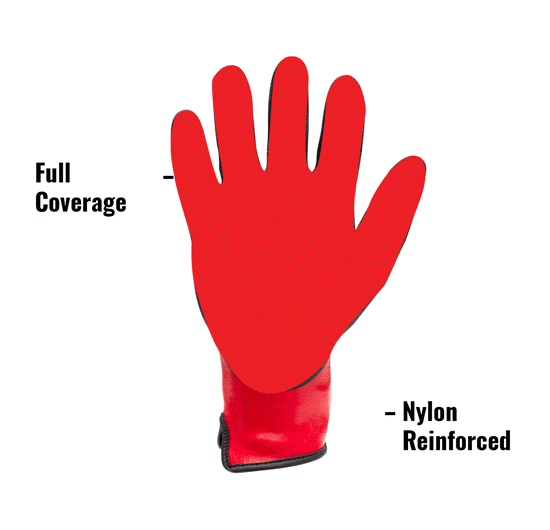 Full Coverage
Dipped in natural latex from fingertip to cuff to give maximum protection against caustic and corrosive liquids
Nylon Reinforced
A reinforcing nylon base glove acts as a liner for increased durability and comfort
Grip Test
Palm and fingers are double dipped and textured to provide excellent grip in dry, wet, or oily conditions
Abrasion Resistance

Anti Microbial

Chemical Resistant

Water Resistant

Glove Dexterity

Grip Level

Puncture Resistant

Tear Level