AX360 Seamless Impact Lite Gloves
With high-level impact protection and abrasion resistance, this lightweight, high dexterity seamless knit work glove will be your new go-to work glove.
Details
The AX360 IMPACT LITE work glove is the lightest impact glove on the market. An 18g chassis creates a breathable material that keeps your hands cool while the flexible knuckle guard protects your knuckles without sacrificing dexterity. A PU palm coating gives you the abrasion resistance you need to touch, feel and maneuver around small parts. Feel the One Degree of Difference™ with the all new AX360 IMPACT LITE.
Features
FINGER AND KNUCKLE PROTECTION - Flexible and ergonomic impact protective TPR sheathing covers back of hand and full length of fingers
BREATHABLE FABRIC - The main body of the glove is made from breathable, high performance 18g nylon
POLYURETHANE PALM - Polyurethane (PU) palm allows for maximum dexterity while providing increased abrasion and wear resistance
TEXTURED GRIP - Palm and fingers are textured provide excellent grip in dry and wet conditions
ELASTIC CUFF - Elastic cuff fits snug and keeps out dirt and debris
EXCELLENT DEXTERITY - Fully seamless glove provides excellent range of motion during wear
FULL PINCH-POINT COVERAGE - Impact guard extends to fully cover finger tips to give additional protection
Specifications
country of origin
Sri Lanka
warranty
10 Day Limited Warranty
Breathable Fabric
The main body of the glove is made from breathable, high performance 18g nylon that allows for all-day comfort
High Level Impact Protection
Flexible and ergonomic impact protective TPR sheathing covers the back of your hand and full length of your fingers for unmatched finger and knuckle protection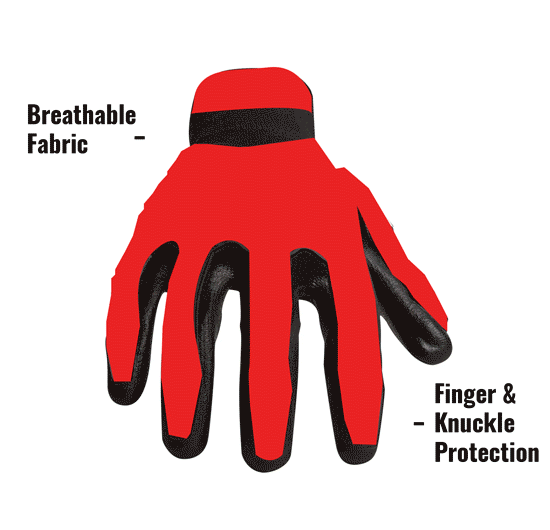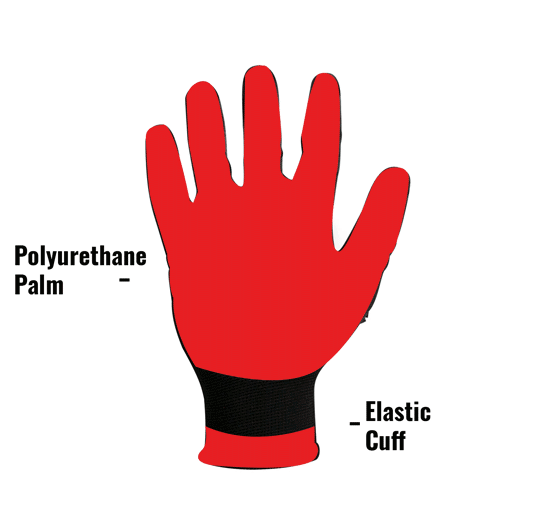 Polyurethane Palm with Textured Grip
Polyurethane (PU) palm allows for maximum dexterity while providing increased abrasion and wear resistance while the textured grip in palm and fingers excellent grip in dry and wet conditions
Elastic Cuff
Elastic cuff fits snug and keeps out dirt and debris while also allowing the gloves to be put on and taken off easily
High-Level Impact Protection, Abrasion Resistance, High Grip and Lightweight

Impact Resistance Test
Flexible and ergonomic impact protective TPR sheathing covers back of hand and full length of fingers
Grip Test
Palm and fingers are textured provide excellent grip in dry and wet conditions
Abrasion Resistance

Glove Dexterity

Impact Resistant

Glove Toughness

Glove Comfort

Glove Breathability

Grip Level