AX360 Seamless Knit Crinkle Grip Latex Gloves
Protect your hands while doing concrete, masonry, and bricklaying without losing your grip wearing the 212 Performance AX360 Crinkle Grip work gloves.
Details
The AX360 CRINKLE GRIP CUT 2 work glove is the ultimate gripping machine. Made with natural rubber latex, this glove channels liquids and solvents away from contact points on the palms that provided excellent wet and dry grip. The 3/4 dip resists liquids for complete submersion of your hand.
WARNING! THIS PRODUCT CONTAINS NATURAL RUBBER LATEX WHICH MAY CAUSE ALLERGIC REACTIONS.
Features
BREATHABLE FABRIC - The main body of the glove is made from breathable polyester fabric
NATURAL LATEX PALM - Natural latex rubber palm provides increased abrasion resistance
CUT RESISTANT - Rated EN Cut level 5 (ANSI A3) for cut and laceration resistance
CRINKLE TEXTURED GRIP - Palm and fingers up to the knuckles are textured to provide excellent grip in dry, wet, or oily conditions
ELASTIC CUFF - Elastic cuff fits snug and keeps out dirt and debris
EXCELLENT DEXTERITY - Fully seamless glove provides excellent range of motion during wear
BULK PACK - Gloves sold in bulk pack of 12 pairs
Specifications
warranty
10 Day Limited Warranty

Excellent Dexterity
Fully seamless glove provides excellent range of motion during wear
Cut Resistant
Rated EN Cut level 5 (ANSI A3) for cut and laceration resistance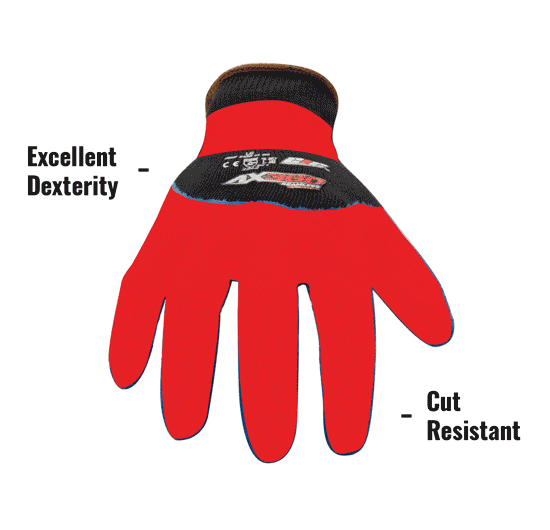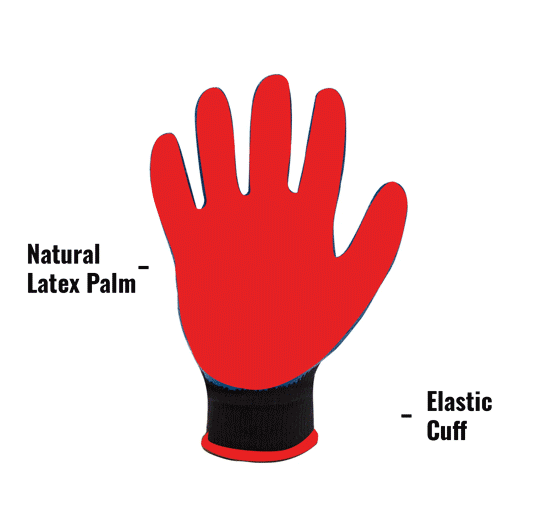 Natural Latex Palm
Natural latex rubber palm provides increased abrasion resistance and the crinkle texture provides excellent grip in dry, wet, or oily conditions
Elastic Cuff
Elastic cuff fits snug and keeps out dirt and debris while also allowing the gloves to be put on and taken off easily
Grip Test
Palm and fingers up to the knuckles are textured to provide excellent grip in dry, wet, or oily conditions
Abrasion Resistance

Anti Microbial

Cut Level

Glove Dexterity

Grip Level

Puncture Resistant

Tear Level

Glove Toughness