GSA Compliant ARC Premium Stick Welding Gloves
Stay protected and cool wearing the GSA compliant 212 Performance Arc Welding Premium work gloves and get more welding done.
Details
The 212 Performance GSA Compliant ARC Premium Stick Welding Gloves are the most comfortable and dexterous stick welder's gloves on the market. Where other gloves barely let you close your hand around your tools, these revolutionary gloves give you the freedom of movement of a much thinner glove. Made with premium leather, this glove is built for maximum manual dexterity while providing the wearer with extreme heat protection. The cotton heat-resistant liner adds additional heat shielding that lets you weld in comfort long after you'd be forced to stop and cool your hands with other gloves. Kevlar threading on the palm and throughout the entire glove resists heat and won't burn or melt during long use. The addition of patches of reinforcing leather along key locations like along the index finger, palm, and thumb saddle provides increased protection against abrasion and wear on these high friction areas. The long, gauntlet-style open cuff easily accommodates additional protective gear like fire-resistant sleeves and welder's jackets and the elastic sewn into the wrist ensures a snug fit and keeps the gloves securely in place while you work. Made to be GSA Compliant, these gloves are perfect not only for your job but for America's finest.
Features
PREMIUM LEATHER - Constructed of premium leather for comfortable yet extreme heat resistance and unparalleled dexterity
KEVLAR THREADING - Glove features heat and fire resistant Kevlar stitching across the palm and throughout the entire glove
REINFORCED WEAR POINTS - Additional leather reinforcing along key, high abrasion areas to prevent premature wear
COTTON LINING - A cotton liner adds additional heat protection so you can spend more time welding and less time cooling off your hands
OPEN CUFF - Long, gauntlet-style open cuff easily accommodates fire-resistant sleeves and jackets
SHIRRED WRIST - Snug-fitting shirred wrist is sewn with elastic to keep out debris when welding and working metal
GSA COMPLIANT - Designed and manufactured to comply with GSA requirements for military and government use
Specifications
country of origin
Cambodia
warranty
10 Day Limited Warranty
Shirred Wrist
Snug-fitting shirred wrist is sewn with elastic to keep out debris when welding and working with metal while allowing the glove to be easily slipped on and off
Open Cuff
Long, gauntlet style open cuff easily accommodates fire-resistant sleeves and jackets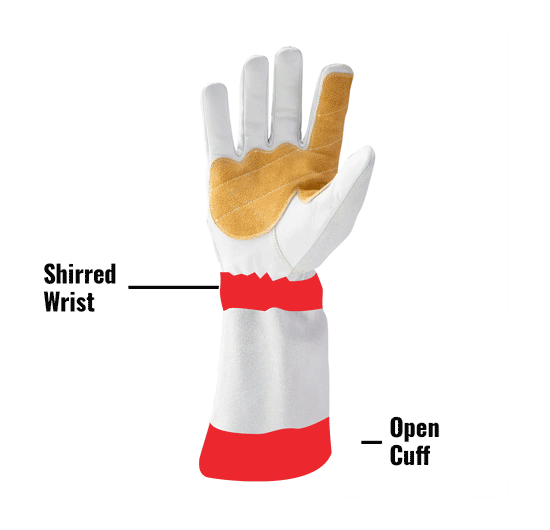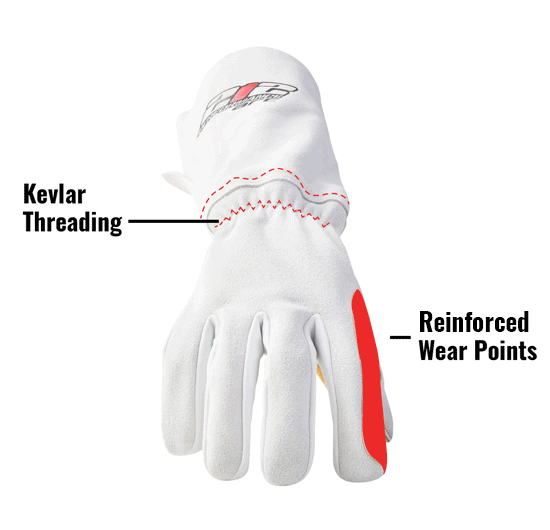 Kevlar Threading
The welding glove features heat and fire resistant Kevlar stitching across the palm and throughout the entire glove
Reinforced Wear Points
Additional leather reinforcing along the thumb saddle, palm, underside of the middle finger, and extending along the length of the index finger for added durability and lifespan
Heat Resistance, High Dexterity, and All Day Comfort

Fire Resistance Test
With 6 sizes, we have the right fit for every hand size
Dexterity Level

Flame Resistant

Toughness Level

Comfort Level

Beathability

Grip Level