ARC Premium Stick Welding Gloves
Stay protected and cool wearing the 212 Performance Arc Stick Welding Premium work gloves and get more welding done.
Details
The 212 ARC PREMIUM STICK welding glove features an extended cuff, reinforced palm and durable leather that keeps you protected from extreme heat. We've designed this beauty to help you weld longer by eliminating cool down time and save you money by creating a glove that doesn't burn through.
Features
PREMIUM LEATHER - Constructed of premium leather for comfortable yet extreme heat resistance and unparalleled dexterity
KEVLAR THREADING - Glove features heat and fire resistant Kevlar stitching across the palm and throughout the entire glove
REINFORCED WEAR POINTS - Additional leather reinforcing along the thumb saddle, palm, underside of the middle finger, and extending along the length of the index finger
COTTON LINING - A cotton liner adds additional heat protection so you can spend more time welding and less time cooling off your hands
OPEN CUFF - Long, gauntlet-style open cuff easily accommodates fire-resistant sleeves and jackets
SHIRRED WRIST - Snug-fitting shirred wrist is sewn with elastic to keep out debris when welding and working metal while allowing the glove to be easily slipped on and off
Specifications
country of origin
Pakistan
warranty
10 Day Limited Warranty
Shirred Wrist
Snug-fitting shirred wrist is sewn with elastic to keep out debris when welding and working with metal while allowing the glove to be easily slipped on and off
Open Cuff
Long, gauntlet style open cuff easily accommodates fire-resistant sleeves and jackets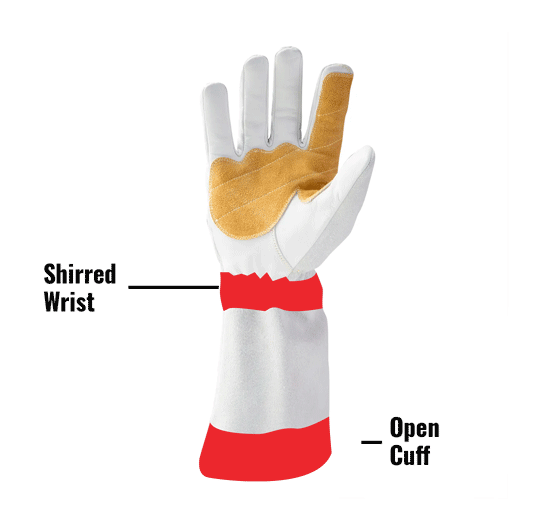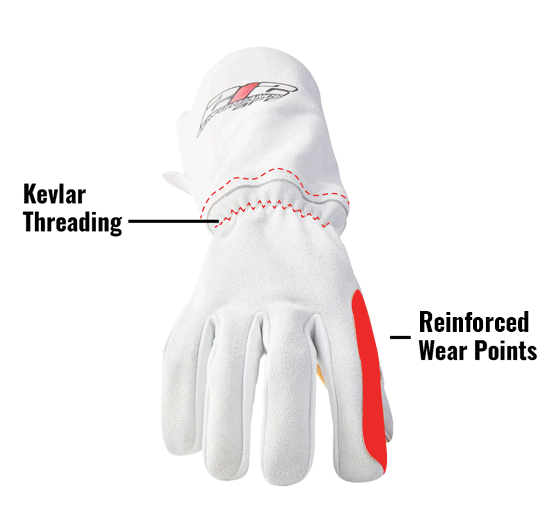 Kevlar Threading
The welding glove features heat and fire resistant Kevlar stitching across the palm and throughout the entire glove
Reinforced Wear Points
Additional leather reinforcing along the thumb saddle, palm, underside of the middle finger, and extending along the length of the index finger for added durability and lifespan
Premium Stick Welding Glove OfferingHeat Resistance, High Dexterity, and All Day Comfort

Flame Resistance Test
Design to keep you protected from extreme heat and flames
Flame Resistant

Glove Dexterity

Glove Comfort

Glove Toughness

Grip Level